Overview
The Monastery Manchester Weddings
*******************************
Wedding Fair @ The Monastery Manchester
Sunday 23rd January 2022
11.00am – 3.00pm
Free entry
Free parking
Goody Bag
Wedding suppliers attending: 35+
Attend for a Chance to "Win a Hen Spa Package"
Click Here for Exhibitor Enquiries
CLICK PHOTO BELOW to Pre-Register for free tickets
*******************************
The Monastery Manchester is an incredibly stunning wedding venue, and a breathtaking setting for your wedding day. You can expect the perfect setting for your special day. To say this venue is romantic, is an understatement of how peaceful and stunning it is, which guarantees that your wedding day is truly an occasion everybody will remember.
Monastery Manchester weddings, view this stunning wedding venue in Manchester, with photos, wedding offers, reviews and much more.
The unique and inspiring Grade II* listed buildings are licensed for wedding ceremonies and civil ceremonies. We can accommodate wedding parties with up to 500 guests in the majestic Great Nave. The elegant Cloisters and tranquil Archangel Garden provide perfect backdrops for beautiful, memorable wedding photographs to cherish forever.
Our talented in-house chefs source high quality, local food to create dishes that are cooked with love and served with soul. This passion spans the entire team and reflects the unique quality of The Monastery itself. Every aspect of your special day is carefully planned and executed so that all you have to do is arrive in style – and enjoy every moment.
Your love can really help make the world go around, as every event held here supports our charitable projects with the local community. Monastery income also contributes to the on-going restoration of these precious historical buildings, helping to secure a part of Manchester's heritage for the enjoyment of generations to come.
The Monastery is the ideal setting for a variety of specialist weddings including Hindu, Indian and Jewish celebrations. Please contact us for details of our recommended external caterers and the relevant tariff.
Our stunning venue is complemented by free on-site parking and outstanding levels of service in every department.
Wedding Venue Overview and Facilities
Great Nave or Private Chapel for the Civil Ceremony
Civil license — Yes for the whole building, including the Cloisters
Same Sex Marriage—Yes
Additional facilities — Welcome Wing and Gardens for drinks reception, Large free car park, Healing Gardens, Stunning Architecture for Photographs
Bars in the Great Nave, & Welcome Wing
Use of other rooms, if available
Wedding Breakfast and Reception Guest Capacities
Wedding Breakfast—Up to 350
Theatre Style—Up to 570
Wedding season availability
Stunning all the year round due to the large amount of space available and the atmospheric lighting, inside and outside the building.
Accommodation
Details for an extensive selection of hotels, local guest houses, hotels and B&B are available upon request.
Directions by Road
By Car from Manchester
Take the A635 Ashton Old Road or A57 Hyde Road to the A1060 Inner Ring Road. Turn there following the brown tourist Monastery signs and look out for the green spire.
By Car into Manchester
From the M60, junction 24 follow A57 into Manchester. At the A6010 Inner Ring Road turn right and follow Monastery signs, look out for the green spire.
1.5 Miles for Manchester City Centre
Directions By Rail
The nearest station to The Monastery is Ashburys Station, which is one stop from Manchester Piccadilly Station and a 5 minute walk from The Monastery. Or, from Manchester Piccadilly Station take a 5 minute taxi journey or the 205 Bus (which takes 10 minutes) and stops directly outside The Monastery.
Directions By Air
Manchester International Airport is 20 minutes by car. Follow the M56 to Manchester, then the M60 towards Stockport leaving the motorway at Junction 24 following the directions above.
Driving Distances/times
Less than 10 minutes drive from Manchester City Centre
Offers/Packages
All Inclusive Package
Available Friday & Saturday from £105.00 per person based on a minimum of 100 guests
Packages include:
Venue hire for your wedding reception
Use of the Welcome Wing and beautiful gardens for photographs
A glass of fizz reception drink (one glass per person)
Three course wedding breakfast prepared by our fantastic in house chefs
Tea & coffee after the meal
One glass of house wine per person with the wedding breakfast
A glass of fizz to toast the happy couple (one glass per person)
Delicious evening buffet
Red or white carpet
Master of ceremonies
PA system for background music
Atmospheric lighting package in your choice of colour
Black & white dancefloor
White table linen & napkins
Table numbers & stands
Easel for your table plan
Cake stand and knife
Ceremony room hire from £1,500

Bespoke Wedding Packages
Hire of The Great Nave from £4,000
Create your bespoke wedding package at The Monastery Manchester starting with room hire of The Great Nave, Welcome Wing, and the beautiful garden. All additional items including food and beverage will be priced separately. Please feel free to talk with your dedicated wedding coordinator for a quotation and to find out what is included.
Packages include:
Venue hire for your reception including use of the Welcome Wing and gardens
Red or white carpet
Gold chairs
Master of ceremonies
PA system for background music
Black & white dancefloor
White table linen
White linen napkins
Table numbers & stands
Easel for table plan
Cake stand and knife
Ceremony room hire from £1,500

Wedding Ceremony Packages
Hire of The Great Nave from £2,000
We would love to host your full day wedding celebrations here at The Monastery Manchester but if you are looking for a venue to host only your ceremony we would be delight to assist with this also. We can accommodate parties from 50 to 400 guests and the tranquil internal walled garden is the perfect backdrop for beautiful photographs, recording precious memories to last a lifetime.
Package includes:
Venue hire for your ceremony (assess to the room 15 minutes prior to your allocated ceremony time)
Use of the Welcome Wing and gardens for 1 hour following the ceremony with access to the Welcome Wing bar
White aisle carpet
Gold chairs
Master of ceremonies
PA system for background music
Speak to your wedding coordinator about adding post ceremony drinks and canapés on to your package

Late Availability & Twilight Packages
We can offer packages for late dates and late ceremony times, please speak to your wedding coordinator who can check our availability and find you a special date for your wedding.

Testimonials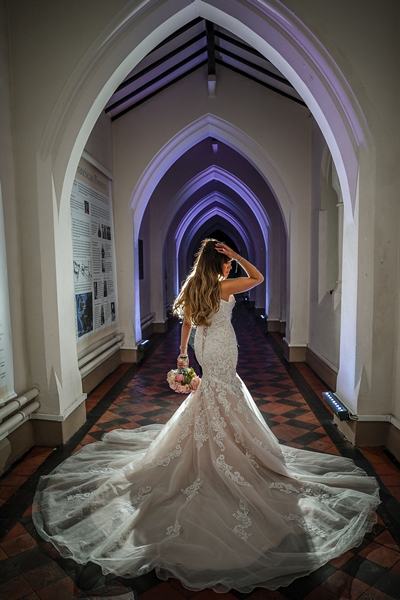 "Fantastic and historical place to hold a wedding! Very grand and beautiful settings based in Manchester. I had my wedding there and was over the moon with the outcome of my day! Food was fantastic and the staff was very helpful. I had two fantastic wedding planners who helped organise the whole day and who were constantly there at the end of an email for me, very professionally ran and everyone had an incredible day !"
Ky & Craig

"Thank you to you and all the staff that helped make our day amazing. All the daytime and evening staff were fantastic. Thank you for all your hard work and a wonderful day."
Angelina & Thomas
"Hi Gaynor, Lovely to speak to you earlier! Thank you again so much for all your work and help with the planning. We really were blown away on Saturday and everything surpassed all our expectations. Lots of our guests have been saying not only what an amazing venue it is but also how incredible the food was and how seamless everything was on the day. Please do pass our thanks to all the staff as they were fantastic!

Yes, please do feel free to use any of the images. We are also so pleased with Damian's photos. He's certainly very talented and has captured the day amazingly well! We'll definitely pop in to see you to thank you in person when we are back from our honeymoon!"
Siobhan and Giuseppe – 23rd March 2019
"Hi Gaynor, Honeymoon was great thanks and we are both back to reality which a huge bump. I cannot thank you guys at The Monastery enough, the venue, food, staff and of curse yourself was amazing from start to finish, anyone that does a job as good as you at keeping me on my toes deserves an award. Our friends and family are still talking about how amazing the day was. Thank you from the bottom of our heart."
Kerri & Anthony
"Hi Gaynor, Thank you so much for all you did for us for the day. The whole event was fabulous and the entire team were superb! We have had so much great feedback from friends and family about everything from the food, to the building and again the staff. Please please pass on our sincere thanks to everyone that helped be a part of such a fantastic day! I have attached a few photos from the day (all from Cluskey Smith who were our photographers on the day)."
Lorna and Nick
"Hi Gaynor, We wanted to say thanks to everyone at The Monastery for our special day. We had the most amazing time!"
Emma & Matthew
"Thanks for all your help. The day went really well it was amazing; can't fault it. Everyone said it was the best wedding they had been to. And they were serial wedding goers!! When we get back we will put something on FB or your web site if you want. Once again Kate I know you have been through a tough time but you were brilliant. Jo x "
Mr and Mrs Walton
"We loved every minute of it & you guys were all incredible; so helpful & professional. We can't thank you enough!"
Abbie and James Stallard
"We had the most amazing day – thank you to The Monastery and all its staff who made our dream day come true"
Mr and Mrs Snape
"Thank you Nancy, we had the most amazing day and everyone has raved about the day and venue. Where would you like me to leave you feedback? I'd be more than happy to do this.

Thank you for you and your staffs hard work on the day as it was clear to see how hard and organised everyone was."
Rachel and Steven

"Hi Nancy, Just a quick note to say thank you.

We pulled it off! Words are not enough to capture what we experienced, it will be with us each and every day forever.

When we get time I will write an a amazing review for the beautiful Monastery.

Each & every one of you guys there are very special people & we really appreciate all you do to keep such a beautiful place alive! Take care and see you soon!"
Mr & Mr Hughes

"Hi Nancy, The Venue was fantastic as were the staff. Can't compliment you all enough. Thanks once again."
Richard & Adele
Please accept our gratitude for all the work you and all the staff did at the Monastery Manchester during our wedding day October 10th 2015.

Hi Nancy, It was a truly beautiful day and a delight for all who attended.

We were blown away with how amazing everything was managed."
Ged & Amy Bailey
Hi Nancy, Thank you for everything and we had the most amazing day!!!

All our guests said it was the best wedding they had ever been to and the venue was stunning and so slick!"
Matt and Shoena
"Hello Nancy, Thank you for the email, we had the most amazing wedding day and everyone at the monastery was brilliant and made our day perfect.

Thank you again for all your help and support you were brilliant."
Louise & Daniel
"Hi Nancy, Thank you so much for all your support, we had the best day ever, it was perfect!

Thanks again for helping to make our dream day come true!"
Jane and David
"Hi, Thank you for everything! Feedback from all of the guests were that they had a fantastic day - best food they have had at a wedding, excellent service run like clockwork, brilliant atmosphere etc.
From our point of view, it couldn't have been any better. We were not only guided through everything so well, but looked after on the day and left without a worry. The venue itself looked fantastic and all I can say is I wish we could do it all over again!!!"
Kim
"What an amazing day it was. Everything was perfect from the minute we got up until the minute we went to bed. When me and Guy arrived at the monastery and saw our guests in the courtyard already having a lovely time, we were so happy. I can't thank you enough for the outstanding service we received from staff from the beginning till the end of the night. Paul and Simon were great and it felt reassuring to know that they were moving around, keeping a check on how things were going. Their flexibility and approachability on the day was really helpful.

The wedding breakfast and our evening buffet was perfect. we have since had many positive comments, not only about how good the food tasted but also its beautiful presentation. I was also particularity impressed by the waitress's who provided excellent, professional service during our wedding breakfast. The monastery is truly a beautiful venue and when I walked into the Great Nave once it had been dressed, it blew me away. All of our guests have not yet stopped talking about what a perfect setting it is.

Gaynor, it is clear to me and Guy, that your attention to detail and your passion for weddings and for the monastery aided you to plan and guide the staff to make our wedding so perfect and we just want to thank you so much for the guidance, support and enthusiasm you have given us over the last 15 months as we built up to our wedding day. It couldn't have gone any better."
Mr & Mrs Guy Bradburn

"The Day exceeded our expectations and everyone had an amazing day/night. Thanks for all your hard work and of course please extend our gratitude on to the operations who were excellent!"
Lara & Oliver
"We are on our way back from honey moon and I just want to say that our wedding day was more perfect than I had ever dreamt it could be .
Thank you so so much for everything ! Everything went so well and we have had such amazing feedback from our guests !
The staff on the day were so helpful and it was clear to see you had relayed all of our requirements to the operations team as everything was exactly how we had wished !
Thanks again you have been an absolute star !! I know Daniel is going to email you too but for now a huge thanks from both of us. It was a day we will never forget !!"
Gareth
"We had an absolutely wonderful day and all of our guests cannot stop talking about what a stunning venue it is. Part of why the day was so good is due to the level of service that we received from all the staff on the day...they ran the day perfectly and were on hand to help in any situation.

Rob and I have looked back through the time lapse cameras that we put up, and the images from them look really good, in particular seeing the room change between the ceremony and the wedding breakfast. The staff involved made it look effortless!

Many thanks to you and all your team for such a fabulous day!"
Kerry and Rob
"We just wanted to drop a quick line to thank you and all the team at The Monastery for helping to make our wedding on 1/06/2013 such a success.

From my first visit with you back in February, I knew it was going to be a fantastic event. You all work so well in ensuring we got exactly what we wanted, and shared your experience to guide us when needed.

I felt so confident that everything would run smoothly, and this really reduced the stress we would otherwise have had.

During the day, all the staff were so courteous and helpful, we couldn't have asked for more. Nothing was too much trouble, and we were treated like royalty.

The food was incredible, and is still being talked about now!

You even delivered the good weather I ordered Gaynor!
Thank you all again, please pass this on to everyone involved.

You made it a day to remember."
Sally
Check Availability
Wedding Fairs
Wedding Fair @ The Monastery Manchester
Sunday 23rd January 2022
11.00am – 3.00pm
Free entry
Free parking
Goody Bag
Wedding suppliers attending: 35+
Attend for a Chance to "Win a Hen Spa Package"
Click Here for Exhibitor Enquiries
*******************************
The Monastery Manchester Personal Showrounds
Viewing by appointment
Free entry
Free parking
Contact this venue directly via the link below to arrange a personal showround to view this wedding venue and discuss your preferences and the available options with their wedding team.
Brochure Request